Previous in the series click here  Next part in the series click here
How did she do it? Part 5 …A picture tells all!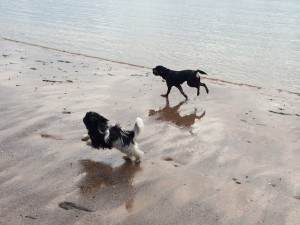 As the tide was going out Coco and Persephone, with tails wagging, were enjoying their race across the sunlit beach. Coco's hind legs high in the air expressing her joy as Persephone's front mimicked the same emotion. Their glee showed in their faces as their shadows followed away from the water's edge.
Yes that took 52 words to read and yet with just one glance at the photo you saw it all!
This week we are going to show you, in the form of a video blog, how this lovely widow was able to print from the comfort of her armchair!
So here is a reminder:- 
1.) Part 1
2.) Part 2
3.) Part 3
4.) Part 4
As as the saying goes "A picture tells a thousand words" so you can confirm for yourself this time.
If you are enjoying this series and would like to get more from your own technology then please do get in touch and email info@webster-consulting.eu
Previous in the series click here  Next part in the series click here