If you are not offering FREE Wi-Fi to your customers you might want to read this.
The number of times we've heard people putting their internet security and safety at risk must be in the thousands.
This is why we have been looking for a solution that prevents this from happening and also offers the latest way of keeping close to existing and potential new customers and clients.
Gary Vaynerchuk said that 53 percent of smartphone usage is spent on social media, at ICON 2016. Google & Facebook advertising is reaching record levels in revenue, Snapchat and Instagram are the fastest growing social platforms. The e-commerce App Wish is the fastest growing product in the world currently. So Free Wi-Fi might be a smart way capturing this mobile activity whilst they are in the vicinity of your business.
Providing your clients or customers free Wi-Fi safely and securely and being able to capture user email addresses to add to your social media marketing campaigns is very valuable.
Not only that you will be to direct them to customised landing (splash page) pages about your business which is the gateway to your free Wi-Fi before clients access the internet on their mobile devices.
We must stress this is very secure and we can configure the content (content filtering) so they only see what you want them to see. Finally, did I mention this is business-grade equipment that is about 5 time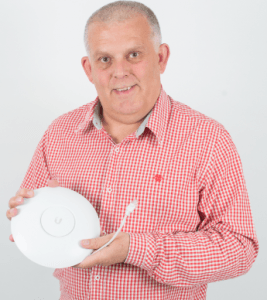 s more powerful than conventional consumer Wi-Fi.
We offer our own branded Wi-Fi Access Point that are available on a 24-month rental basis. It is plug and play and will enable you to do the following –
Provide your clients or customers FREE WiFi safely and securely.
Using Business grade equipment your Wi-Fi will be 5 x faster .
Capture user email addresses to add to your marketing database.
Our new Wi-Fi Access Points provides a fully-featured business-grade technology which is suitable for both large and small businesses.
Wi-Fi Service Features
Low monthly fee

The must have bolt-on to 

Broadband/Ethernet connectivity

Scalable – quick and easy to expand

Suitable for business of all sizes

Business grade Wi-Fi (5 x more powerful)

Secure PCI compliant option

Wi-Fi Engage – splash page & analytics
Wi-Fi protect – content filtering
Additional access points
Access point installation
Landing page design
Desktop survey
On-site survey
Benefits
Widespread coverage

Increase staff efficiency

Convenience for visitors and customers

Mobility – enable internet connectivity 

throughout the workplace

Productivity – increase workforce productivity

Deployment-Simple, easy to manage 

deployment

Expandability – Easy to scale with your 

business demands

Cost-effective way of bringing wireless 

Internet into your business
For more information please contact us on 0118 321 7665 or info@webster-consulting.eu
If you want further information on formulating a successful move to a mobile computing platform, then please
call 0118 321 7665
to schedule a FREE consultation or time to talk.
You can also follow us on Twitter @infoatwc
Webster Consulting, Working with individuals or SME business for all their technology needs.
Moving to the Cloud? We Make it Happen