Here at Webster Consulting, we're a Google Apps Authorised Reseller. Any debate and conversation about Google Apps and its continuing rise in winning enterprise customers naturally grabs our attention.
We came across a great article written by Drew Robb for Enterprise Apps Today, comparing Google Apps and its nemesis, Office 365.
Let's face it, just about every home and business has access to Microsoft Office suite. Did you know, Google Apps boasts 50 million users including more than 5 million businesses? Google Apps has on board 74 of the top 100 universities in the U.S and has more than 6,000 Google Apps resellers, including Webster Consulting.
As Drew Robb, states, " These numbers are driven by the rapid adoption of cloud and mobile technologies. Google Apps was designed from the ground up to work across desktop, tablet or mobile device. Users can start where they left off in an application on a new device in a new location."
This is one of the many benefits of Google Apps. You can work anywhere, on any device.
Is Google Upsetting Microsoft's Cloud Office System Ambition?
A recent Gartner report, notes that Google is taking more business away from Microsoft than ever expected.  Drew Robb reports, "  Google is winning one-third to one-half of new, paid, cloud-based office system seats. "
It's clear that Google has some large, influential clients. There's Woolworths (Aus, 200K employees), BBVA (Spain, 110k employees), Roche (90k employees), all of which have " gone Google" as well as many others.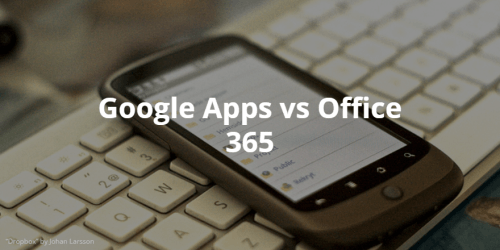 Suresh Sambandam, OrangeScape founder and CEO,  told Drew Robb that " Google has the best price/performance advantage as it stands today,however, I have seen Microsoft undercut prices significantly on strategic deals."
Is there no going back for Microsoft now? Has its ship sailed? Sambandam doesn't think so, " In the long term Microsoft can win as its Office Suite on Desktop is clearly much more feature rich, especially Excel," he said. "If they can really bring the power of desktop features to the cloud, there will be lot of takers."
The jury is still out on this. Microsoft does retain popularity with the home office users, students and to a certain extent the workplace. The popularity is declining. Why? Google Apps is a strong suite of products. It's cheap and reliable.
At Webster Consulting, we understand why some might have reservations surrounding Google Apps.  It's relatively new territory and with that, comes misunderstandings and misconceptions. Google Apps is a secure solution for your business computing needs. There's no need for expensive hardware refreshes or constant software updates. Going Google is easy, especially with our help.
If you'd like to learn more about Google Apps, see how Webster Consulting can help you.